Last time we talked about places to go for inspiration – spiritually, physically, emotionally, or creatively.  We're going to continue that discussion this week.
How about something a bit more serf?  Need a field?  A forest?  A quaint village?  Woodsy hillsides?  England and Ireland are two locations that can help you set the scene.  Portholland in Cornwall, England, connects the explorable hillsides with the relaxation of the beach.
Skellig Michael (Game of Thrones) in Portmagee, Ireland, offers quiet, spooky, threatening, and beautiful locations for inspiration and backdrops.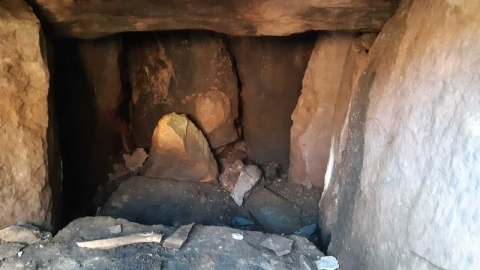 A wonderful Celtic backdrop can be found in Dingle Peninsula (Star Wars) in Ireland.  It's the home of forests, taverns, museums, tombs, and lots of other sites to have fun in.
Looking for something more mysterious? 
Dark Hedges (Game of Thrones) in County Antrim, Northern Ireland, forms the perfect canopy for your inspiration.  What can pop out here?  Fairies, monsters, elves, your best friend pulling a prank.  What do you think?  Search Pintrest under "Misty Forest" or "Spooky Forest" and see all the inspiration that comes up.
This misty tunnel (Asteria: The Discovery Trailer) in Maquoketa State Park in Iowa could be the site for any number of adventures or inspirations.  Just image the things a person could find here.
How about horror or ghost stories?
Most counties have homes that are really old and in compromised conditions, like Bell Witch Farms in Adams, TN.
Not all haunted houses are dilapidated.  The Turner-Ingersoll Mansion, also known as The House of Seven Gables, in Salem, MA is in very good repair – and supposedly still haunted.  This is the house that Nathanel Hawthoren's story was based on.  Both of these houses could inspire your imagination in many directions. 
For more spooky locations, check your library's history section.  Or you can check out Pintrest.  Beartales.me is only one of the many pinners that posts images of old, boarded, dilapidated, or well-maintained haunted homes that can be the perfect setting for your mystery.
Can't afford to take a long trip?  Check online for virtual tours.  While they won't give you the sounds and smells, they can give you a feel for the area and a taste of the time periods.  Inspiration can be found an many places.
Sign up for my newsletter and stay informed about events, news releases, and upcoming books.  Join now and receive the first four chapters of Asteria: The Discovery for free.